There is a world of problems around us - climate change, resource scarcity, and extinction; economic uncertainty, unemployment, and a rising cost of living; racism, terrorism, and social and political extremism. These problems are interconnected, each one reinforcing others locally, regionally, and globally. For the most part, they are all of our own making.
Understand the context, and we begin to understand the solution - to use what limited resources and opportunities we each possess to contribute to positive change. This is the essence of radical pragmatism - finding elegant solutions that address specific challenges but that also contribute to a broader movement towards a common goal.
In the end, we are all working towards a better future - for our communities, our customers, or our constituents.  What binds us together is our commitment to turn our challenges into opportunities for a better future. This common commitment cuts across all issues, and all sectors.
This commitment to a better future, which is evident in the work of so many organizations, can be represented visually with a simple icon: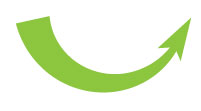 This is the true context for our work - not one of despair, but of hope and a common commitment to turn our challenges into opportunities.